Vyond Go is a new script and video creator powered by artificial intelligence (AI). Entering text into Vyond Go's prompt window will automatically generate both a script and a rough-cut video. 
Please note that Vyond Go is in beta testing. As such, your feedback and suggestions are appreciated. Contact support@vyond.com with questions, suggestions, or technical issues.
To use Vyond Go, check out the video below along with the listed steps:
Steps
Step 1: Select Vyond Go from the Create Video drop down menu: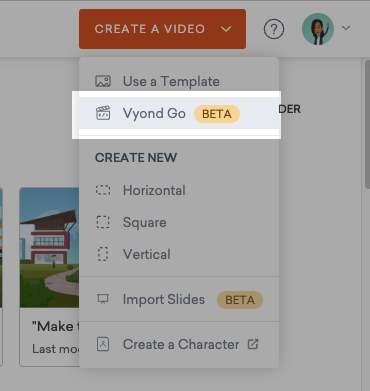 Step 2: Enter a Topic in the prompt box: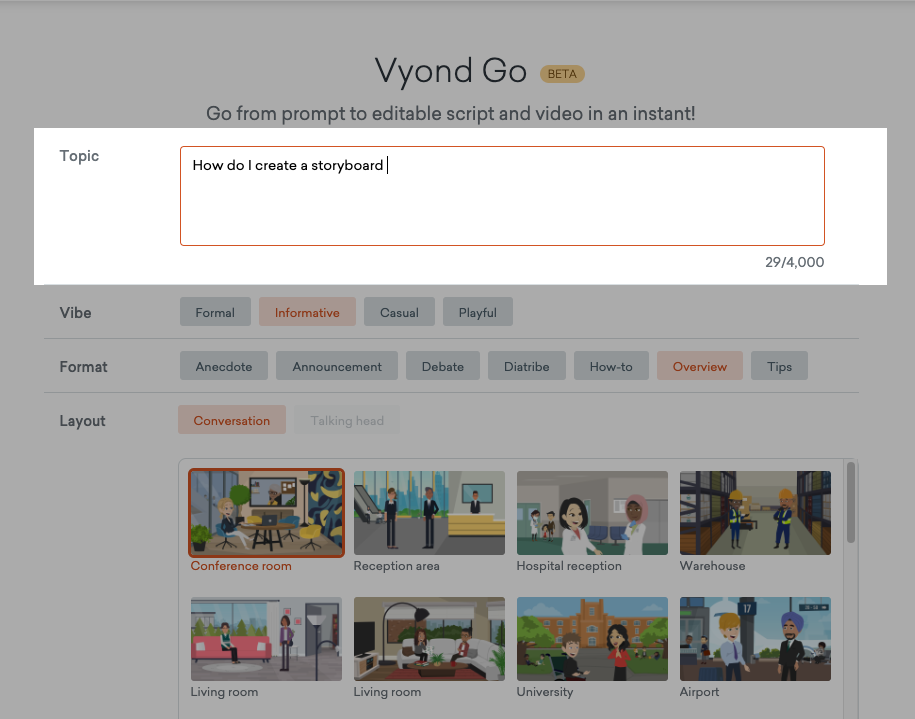 Please note, there is a 4,000 character limit for prompts. Vyond Go will generate scripts based on the topic entered and will not create a video word-by-word based on a pre-written script. Videos may be around 2 minutes long, however this can vary according to how long or short the prompt is.
Step 3: Select a Vibe: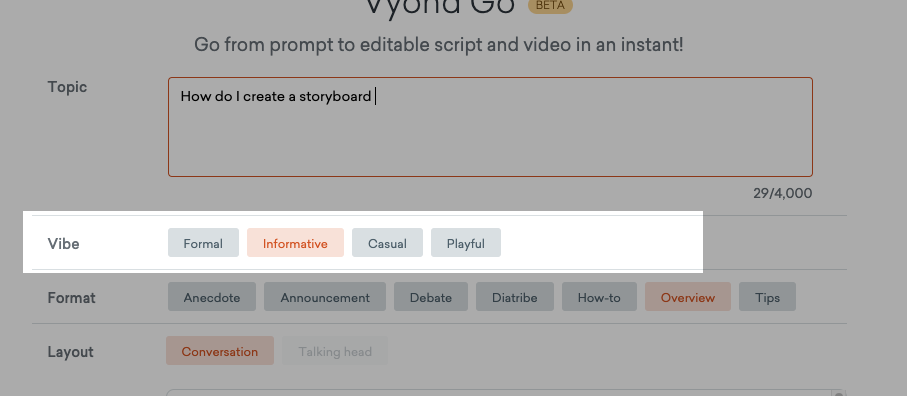 | | |
| --- | --- |
| Vibe | Description |
| Formal | Speech may use language that is more precise and be more suitable for business settings. |
| Informative | Speech may include more details with a neutral and matter-of-fact way of sharing information. |
| Casual | Speech may be characterized by being more relaxed and friendly. |
| Playful | Speech may be more lighthearted and could use a bit more humor. |
Step 4: Select a Format:
| | |
| --- | --- |
| Format  | Description |
| Anecdote | Characters will share experience on a topic and any conflict or lessons learnt. |
| Announcement | Characters share changes or information, the key facts, and the impact on an audience. |
| Debate | Characters use constructive or persuasive arguments for both sides of an argument. |
| Diatribe | Characters are frustrated by a topic and lay out their arguments. |
| How-to | Characters give step-by-step instructions on the topic. |
| Overview | Characters share an overview of a topic, illustrate with some examples, and do not provide any advice or persuasive arguments. |
| Tips | Characters share knowledge and best practices on a topic. |
Step 5: Choose a Layout for your video and then select Create This Video: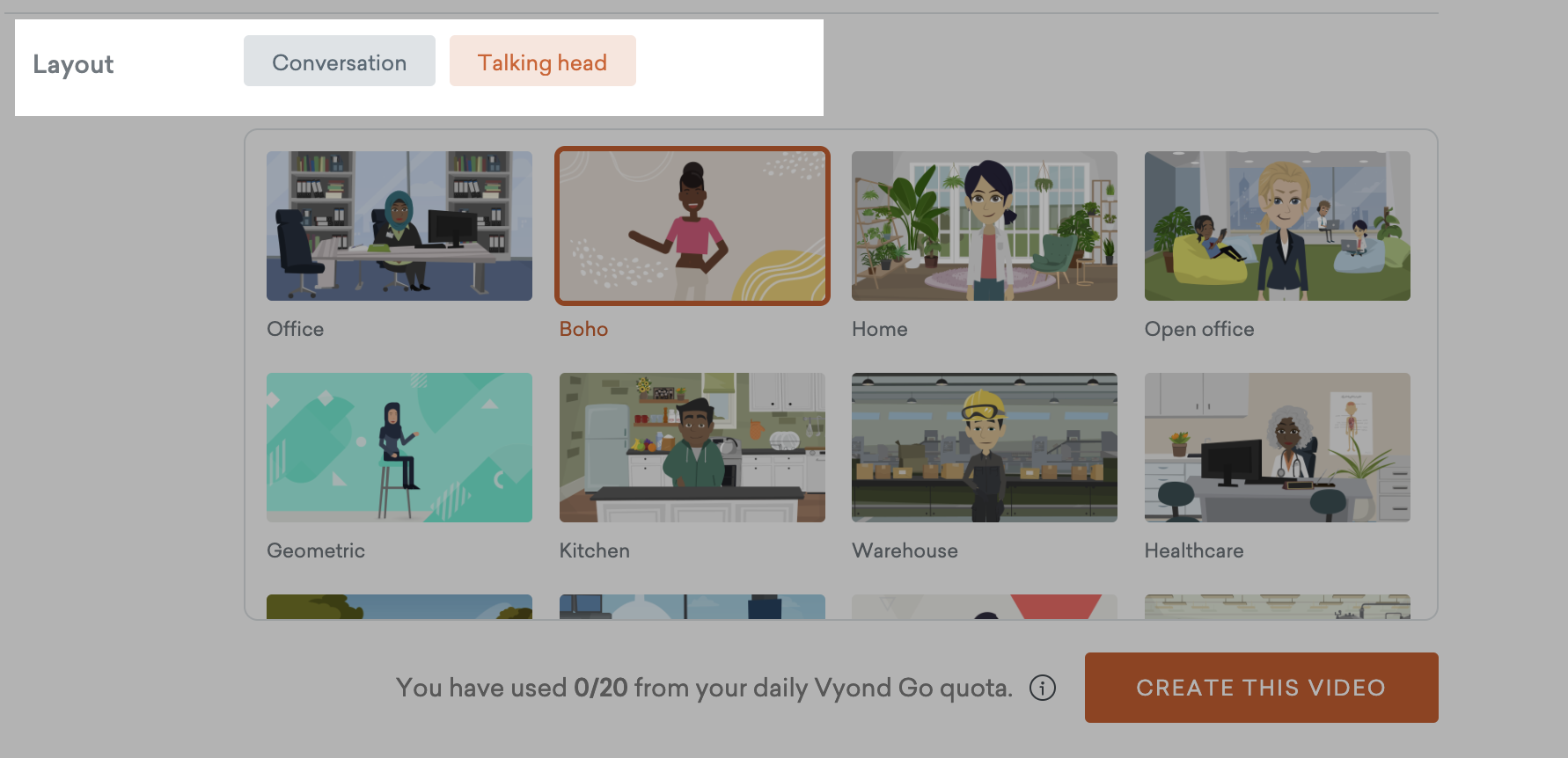 There are two layout styles to choose from: Conversation or Talking Head.
Step 6: A video will be generated in the Quick Edit page where further edits to character dialogue can be made: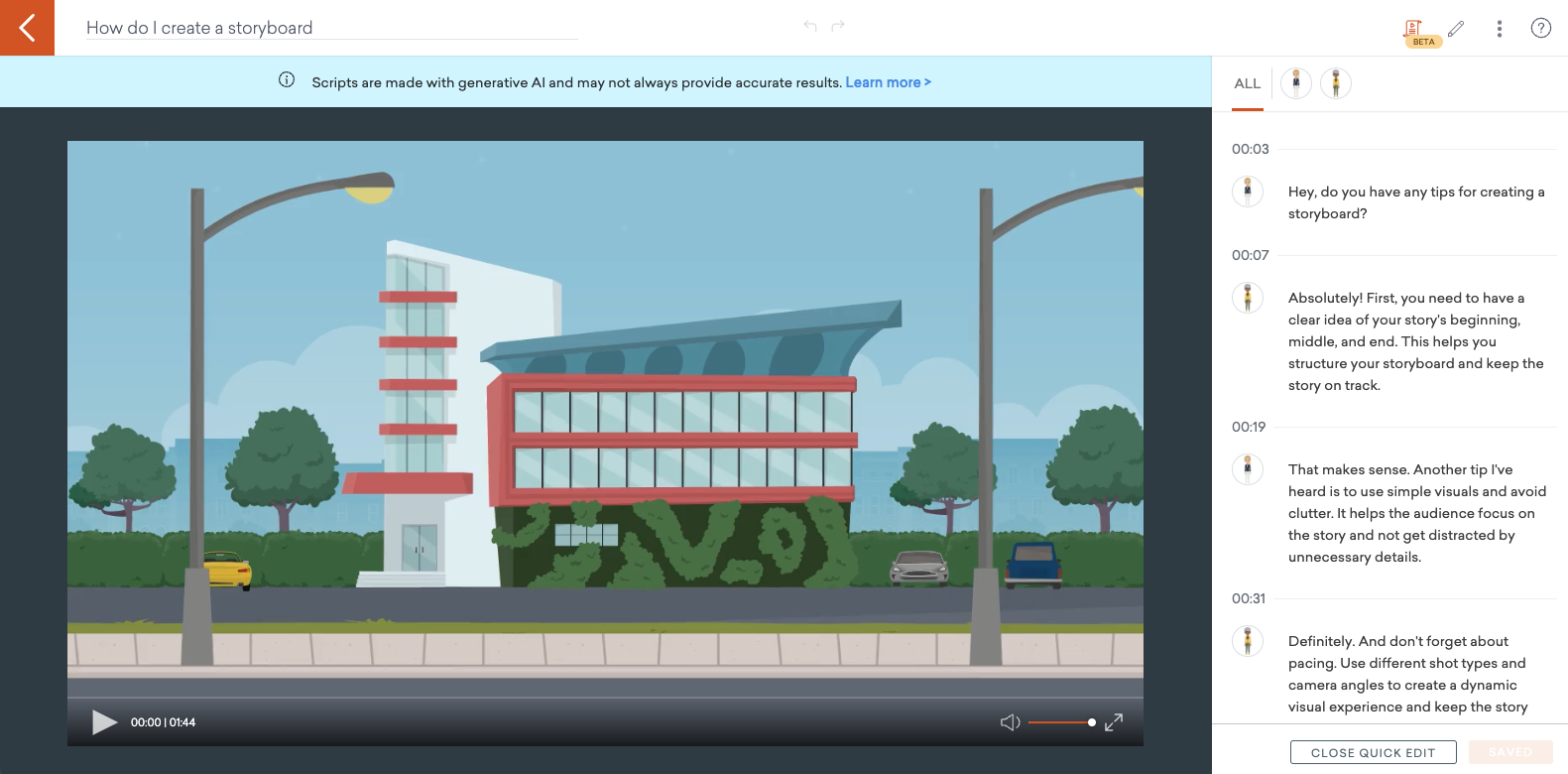 For more information on Quick Edit, check out the link here.
Videos generated using Vyond Go can be further edited directly in the studio by clicking the Edit icon in Quick Edit: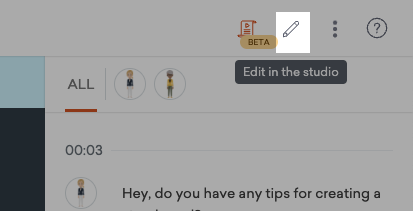 Usage Limits
There is a daily limit to the number of prompts per user that can be entered with Vyond Go. The limit refreshes every day at 0:00 UTC. The current prompt limit as follows: 
 
Free Trial
Essential
Premium
Professional
Prompt Usage
(per user, per day)
3
3
5
10
*Please note: Daily prompt usage count is not affected by subscription upgrades. The limit will increase upon upgrade, however the daily count will remain the same. 
Usage limits are also reflected on our Plans and Pricing page. 
Multilingual Script Output
Multilingual Script Output is available in Vyond Go. This feature is only available to Professional, Enterprise, and Professional for Agency plans.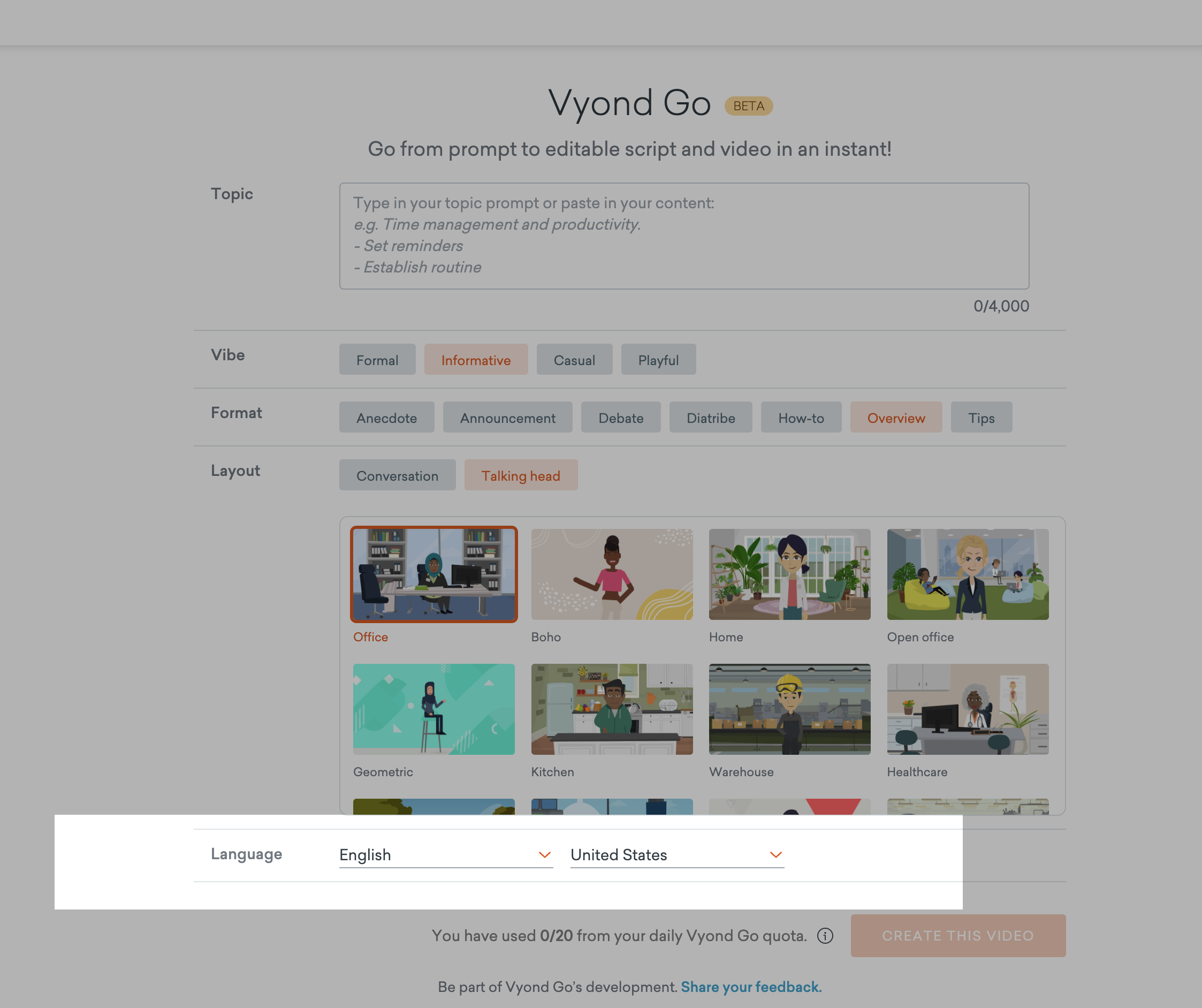 Edits can be made to the language in the studio after the video is generated. 
Multilingual Script Output is available in 70 languages (the languages supported by both auto-translate and text-to-speech). 
Other Considerations
NSFW and all content that violates Vyond's

Acceptable Use Policy

is prohibited. NSFW content will not be processed.
Scripts are created using generative AI and may not always provide accurate results. Vyond is not responsible for the accuracy of a generated video.
The scripts generated do not necessarily represent views of Vyond.
The prompt accepts any language and emojis but all video outputs will be in English at this time. Professional users can translate the content in the Studio.

Vyond Go will not listen to

video duration, format, or number of characters in the prompt input.
The prompt will not create a video word-by-word based on the script inputted.
We have fixed templates. The templates and location of the templates will not match the video content. For example: If your video topic is about dogs, dogs will not appear in the generated video.