There are two main options to preview a video - one way is to preview from the video list and another is to preview from within a video itself.
Preview from video list
1) To preview from the video list, move the cursor over a video and click the Play button.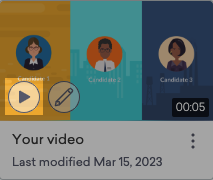 Preview from within the video maker
1) When creating or editing a video, click on the Preview button to start previewing from the active scene.

2) Click on the Expand function to see other options for previewing. To start from the beginning of the video, click Preview From Start.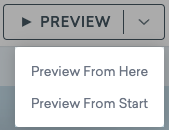 3) You can pause / resume preview hitting the Space bar in your keyboard.
4) To exit preview, click Exit, click anywhere else in the scene or press Esc key in your keyboard.