From character actions to camera movements, continuing the last scene is a great way to create fluidity in videos. This allows for the next scene to be carried over from the previous. It is great to use if small adjustments to effects, character actions, and camera movements need to be made. Check out the video below:
The option to Continue Last Scene can be found in the timeline: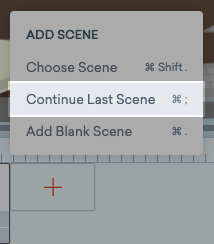 To learn more, check out this great webinar on the Hidden Magic of Continue Scene.
For more information on the timeline, reference this article here.